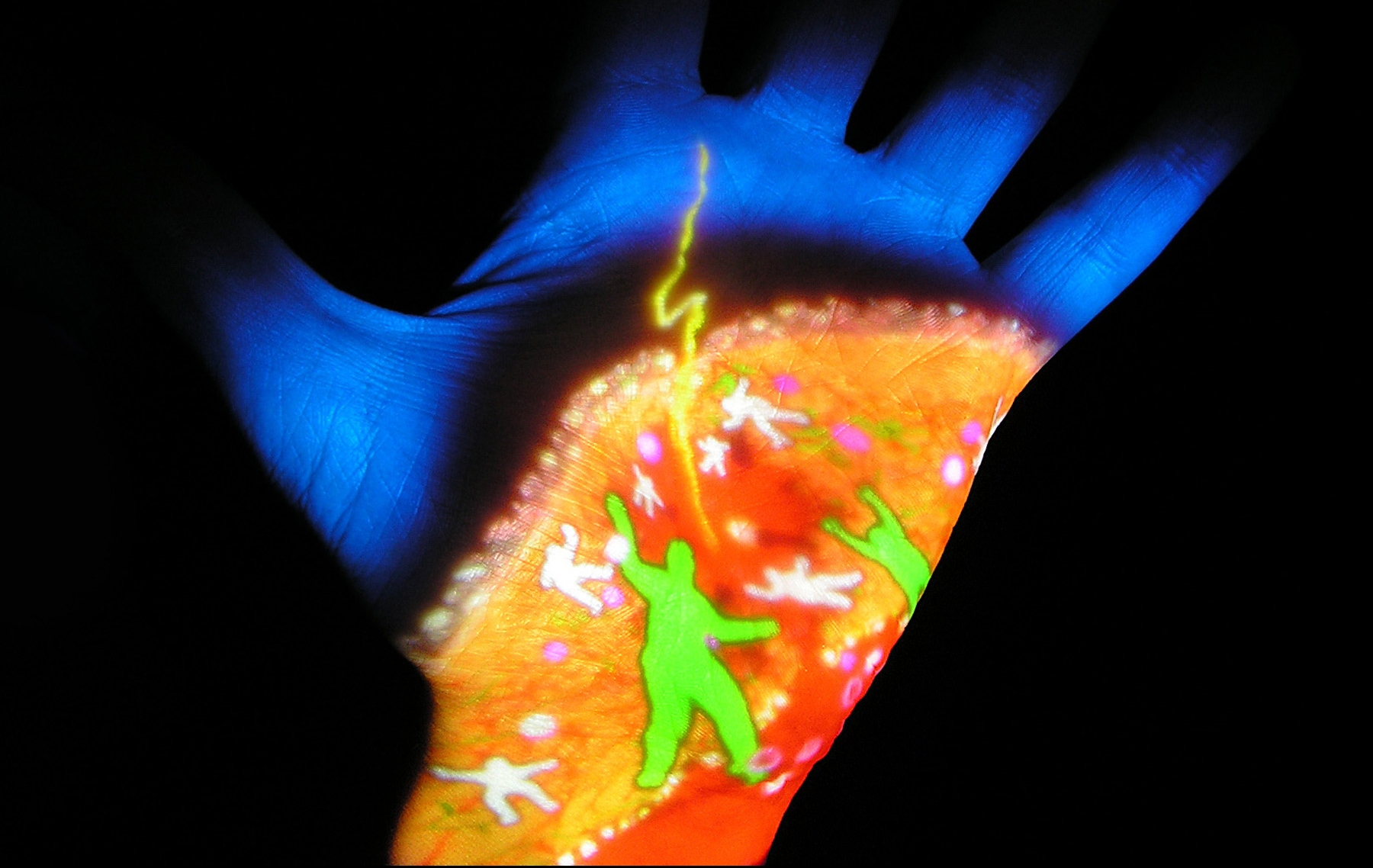 Blister Cinema is an interactive installation which allows you to take part in the battle between bacteria and immune cells inside a human blister. Seeking to devour your blood a horsefly rips through your skin leaving behind a trail of nasty invaders. Your defence system springs into action – forming a blister and flooding the area with various bacteria eating cells.
Blister Cinema will simulate this inflammation through a series of microbial micro-games. The games will use Kinect sensors to put the audience right inside the action. The health of the host is at stake – will the infection take over or will the immune cells restore normality?
Blister Cinema has been created by Genetic Moo in collaboration with scientist Dr Neil Dufton. As well as being exhibits, Genetic Moo's Blister Cinema will act as film sets for The Battle of Blister.
There will also be opportunities to learn about the science involved and how doctors study inflammation. Plus you can talk to the artists about the project and about creative coding.
Below are three events where you can experience the Blister Cinema first hand and be part of the action.
Blister Cinema 1
@ GEEK 2015
Fri 20 – Sun 22 Feb 2015,
12-6pm
The Panay Fashion building, 9 Marine Gardens, Margate
CT9 1UN
Free admission
Talks, 2pm & 4pm, Friday & Sunday

Blister Cinema 2
at ArcadeCardiff
Fri 10 Apr -12-8pm
(drinks from 6pm)
Sat 11 Apr 12-5pm
Thurs 16 – Sat 18 Apr,
12-4pm
Unit 3b – Queens Arcade, Queen Street, Cardiff
CF10 2BY
Free admission
Talks and demos, Sat 11 April, 2-4pm
Blister Cinema 3
at Limbo Arts
Sat 13 June, 12-4pm
Talks and demos from 2pm
Fri 19 June, 6-9pm
'It's a wrap' party
Substation Project Space,
2 Bilton Sq, High St, Margate
CT9 1EE
Free admission
(Viewing by appointment only
Mon 8 – Sat 20 June
contact: info@geneticmoo.com)