by Dr Alexa Wright, February 2016, Silent Signal Symposium.
I have been involved in this long term Science and Art project since its inception in 2007. I don't think there will be time to talk about individual works, so I am going to focus on the process and history of the project because it is unusual in a number of ways.
The project was first conceived by leading Canadian Cardiologist Heather Ross when she started to notice that her heart transplant patients weren't necessarily adapting to their new organ emotionally and psychologically as well as everyone thought. I have listed the other core members of the team here, which is already very interdisciplinary and unusual in Canada.
Their initial hypothesis was… that identity disruption occurs commonly in heart transplant recipients, and that this disruption is associated with perceiving the transplanted heart as a disruption to the sense of self and/or bodily integrity. …and that this identity disruption is associated with adverse outcomes.
…this distress may have manifest physical or psychological symptoms, such as those associated with depression, but it is equally likely to operate at a subconscious level that may be rarely overtly acknowledged".
Together the team set out to address these four questions:
How do heart transplant recipients perceive their hearts, bodily integrity and personal identity?
How do heart transplant recipients imagine and speak about their donors?
How do these perceptions, thoughts and accounts change over time?
Is there a relationship between these perceptions and physical/mental outcomes?
In short, it's a study of how a person's mental and emotional wellbeing impacts on their physical health.
In 2007 Andrew Carnie and I were invited to Toronto to present papers at a conference on transplantation at the Healthcare Network in Toronto. Here we were able to meet many of the scientists for the first time.
Nevertheless, the following year Catherine and Ingrid were invited to join the team.
The scientific study is particularly interesting because it is based on visual evidence. The team videoed interviews with recipients, which are then analysed to try to understand what the patient is really saying by reading his or her body language. Due to ethical restrictions, it took 3 years for the artists on the team to get permission to see the videos, and only then in a very controlled situation. There are various layers of consent for each participant, the final one being for the artists to view and interpret their video. We were eventually given access to some of the transcripts. Unfortunately, I can't show you any of the video footage, however what we noticed was the patients' body language often contradicted what they were saying. For example, one patient would talk about how positive his life is now in a low monotone voice, looking down and constantly tapping his fingers on the table.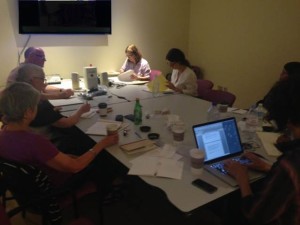 For the past six years the team has gathered in this room at Toronto General Hospital for 3-4 days at a time once or twice a year to watch and discuss videos for seven or eight hours at a time. The process is quite intense – note the number of coffee cups on the table. For the first couple of years of the project several of the scientists were very suspicious of the artists so the meetings were not always comfortable. This all came to a head in late 2011 when communication felt very strained. It turned out that several of the scientists were concerned that we were going to exploit them, or misuse their findings. In that way this project is quite unique – the collaboration (which it has now become) was initiated by the scientists, and yet at that time many of them were wary, probably because art-science collaboration was something very new in Canada.
So, in Summer 2012 we organised an exhibition of our previous works at YYZ Gallery in Toronto where the artists were present for the duration of the exhibition, which was particularly marketed to medics and anyone affected by transplant. So we were able to spend a lot of time talking to patients, families and doctors about our ideas and their experiences. Most significantly we held an evening of presentations for the scientists. Each artist gave a short slide talk about his/her previous works and ideas for this project. This was a conscious strategy to win them over by showing them what we do and it really worked – you could literally see light bulbs going on – atmosphere in the room dramatically changed and from then on we (artists) were accepted as full members of the team. Suddenly the scientists could see what we have to offer and could understand the point of our work. To the extent that now, in the second phase of the project, we have been written in to the Ethics applications from the start and are playing an active role in interpreting the research material.
In 2013 we (the artists) presented our ideas in rough form in this black box space at Concordia University in Montreal. We really knew that we had won over the scientists when most of them travelled from Toronto for the exhibition, (not a short distance – something like London to Aberdeen) and to participate in two public events where we presented the project. This was a great opportunity to see how audiences would interact with the works and get some feedback.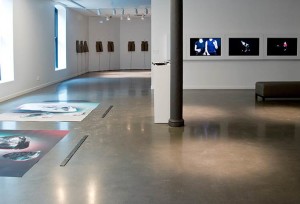 Then finally in January 2014 we showed the final works together for the first time at the PHI Centre in Montreal. This was accompanied by a series of public presentations – here is the whole team during one of those presentations at PHI centre, 2014.
Whilst our works are united by the subject matter, they were developed over a long period, and so partly by necessity we each worked quite separately. Andrew made a video installation, Ingrid made a dance performance for video, Catherine made 3D photos (and has since been developing a video piece from these) and I made an interactive sound installation – with the jackets shown here in the back of the picture.
We also each made a secondary work for that exhibition.
Ingrid Bachmann – The Gift 
The Gift from Ingrid Bachmann on Vimeo.
There are themes that run through all the different works – I think we were all very struck by the emphasis on what the body is saying – the issue of vulnerability, as Ingrid articulates the incommunicability of the experience, she gave two young dancers fragments of transcript and had them interpret these physically, embodying the narratives in a way that nicely echoes the processes of the scientific study.
Andrew Carnie – A Change of Heart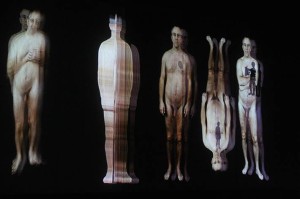 Andrew is thinking about embodiment in a very different way – depicting slowly metamorphosing bodies –in this work each figure's change is based on drawings made while listening over many days to taped interviews of patients post transplant. Listening to complex stories of lives changed, the analysis of social scientists as they mapped the conversations; what is heard, what is gestured; said by the body?
 A figure, many figures, all the same one figure come and go many times across the screen; the figure is naked, vulnerable, always changing, always morphing into something else. Where is the constant being? here everything is moving.
Catherine Richards – Still Lives

Playing with materiality and the immaterial in a different way, Catherine's 3D photos depict some of the offerings given to cardiologist, Heather Ross by patients and collected in her office. Catherine has written:
"Patients don't come here. They come to clinic and year after year they give these to her. These objects take on a life of their own. They live in her office and she cannot part with them. Captured in stereo prints these objects live a kind of half life as apparently material, but they also appear active in unexpected ways, operating out of reach."
Alexa Wright – Heart of the Matter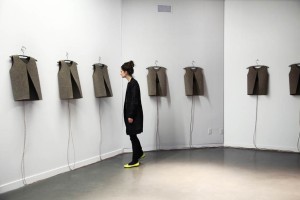 Eight channel interactive sound installation that explores the impact that heart transplant can have on a recipient's sense of self as a bounded and unique individual. Monologues compiled from individual accounts of the experience of heart transplant are heard alongside personal narratives of intimate relationships, where a parallel leaking of boundaries occurs in the interdependent affiliation between self and other.
In my work interactivity is important , listener dictates the narrative that s/he will hear by choosing to stay still or move around. As more people enter the space a web of narrative builds up.
Ongoing research: the GOLA project – Hybrid Bodies 2 Donor family study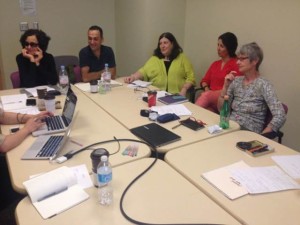 I am starting a new project with the artists from the beginning. In this picture we are watching video interviews with donor families.
For more information on the project: hybridbodiesproject.com.
---
Dr Alexa Wright is an artist based in London and is Reader in Art and Visual Culture at the University of Westminster. She works with photography, video, sound and objects. She is fascinated by narrative, and is currently interested in fragmenting and recontextualising personal narratives as these can reveal so much about what it is to be human. Motivated by her own sense of strangeness and displacement, Alexa's curiosity is channeled into unsettling works that challenge the viewer or listener to move out of their comfort zone. In the making of these works she often takes herself into situations where people are at their limits. These include: US jails, where she interviewed people convicted of murder, the opera, where she photographed singers during and after performance, and, most recently, two day centres for people recovering from acute mental difficulties.