GENETIC MOO
IN COLLABORATION WITH
DR NEIL DUFTON
"WE ARE THE BODY. WE ARE UNDER ATTACK." INFLAMMATION IS AN ANCIENT WAR CRY BUT WITH SUCH A CROWED BATTLEFIELD HOW CAN THE BODY TELL IF IT IS WINNING AND WHEN IT IS TIME TO PUT DOWN THE WEAPONS?
There are many types of soldiers fighting in this arena, all with their own specialised skills and weapons. These have been generated from human volunteers interacting with the blister cinema, exploring and responding to their environment to represent the complex signalling of inflammation.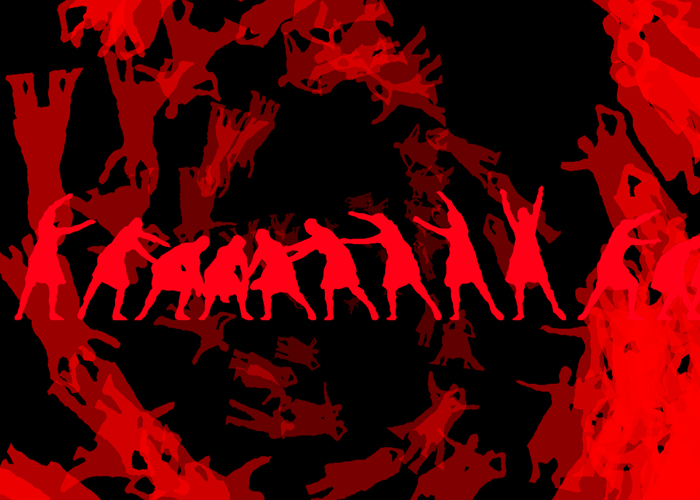 Genetic Moo used Kinect sensors to record the silhouettes of performers, and wrote their own software to capture the motion data as it happened.
At the editing stage, they were able to select, fine-tune and layer these sequences to produce the final 2D CG animated film.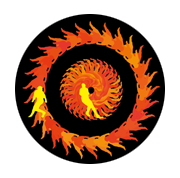 Mast Cells
These master regulators of the immune system come from the bone marrow but travel all over the body looking for any sign of danger. They have important protective roles in wound healing and fighting pathogens. Each cell contains stores of biologically active granules which, when released, cause inflammation and allergies.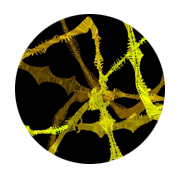 Histamine
As one of the danger signals released by mast cells histamine plays an important role in inflammation. It causes the cells of the blood vessels to relax and make channels to let immune cells move from the bloodstream into the tissues where they can fight pathogens. Histamine has many other functions in the body including keeping you awake. That's why medication that blocks it (antihistamines, hay fever tablets) can make you drowsy.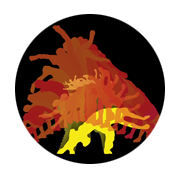 Plasma
This is pale yellow fluid surrounds all the cells of the body and makes blood a liquid. Have you ever noticed a liquid seeping out of a wound in your skin? That is plasma. It may be mostly water but transports many important compounds like proteins, hormones, and nutrients that are required by cells. As well as delivering material it also takes waste, like carbon dioxide, away from cells.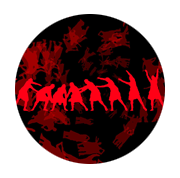 Blood vessels
Veins and arteries are large vessels that branch off and narrow to form capillaries. These form the transportation network that carries products to every cell in the body. This network is constantly being repaired and redirected to meet the body's needs. Finding out what signals control the growth of new vessels could help in many conditions from improving wound healing to limiting tumour growth.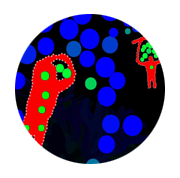 Leukocytes
This family of immune cells, also called White Blood Cells, protects the body from infections and foreign invaders. There are many different types of cells which all have different functions. Some attack parasites (eosinophil) as others fight bacterial and fungal intruders (neutrophil). Some cells act like a vacuum (monocytes) and hoover up dead cells and debris to help return the tissue to a healthy state.
INFLAMMATION:
This is the starting point for both disease and healing, and a process everyone will be familiar with. A runny or blocked nose, swollen glands and lumps and bumps are all caused by inflammation. These swellings are caused by the immune cells that follow chemical distress calls from tissue that thinks it is under attack.
INNATE IMMUNITY:
The immune system is how the body fights off attacks from diseases and toxins. The innate parts of this system are immediate and act fast against a wide range of pathogens; they don't need to learn their roles as they are already programmed in. When you are born, you automatically start to breathe, but you have to learn how to talk. You are born with your innate immunity, like the blister response, but other cells have to learn their role and these make up the adaptive immune response.
CASCADES:
Just like water cascading over a waterfall, biological information needs to flow from one place to another. Cells use chemical messengers like runners in a relay team; the team can be made up of different cells or gangs of proteins inside a single cell. By studying who is in which team, what baton they use and who they pass it to, helps scientists to understand what causes a disease and how to stop it.
FLOW CYTOMETRY:
When a light hits a mirror ball it reflects smaller beams of light all over the room. If you shine a laser at a cell the light also bounces back. The way a cell scatters light depends on its size and what is inside it. Flow cytometry collects these scatter patterns so that researchers can work out the amount and type of cells that are in a sample. Individual proteins in a cell can also be labelled with a glowing tag so the brighter the cell appears the more protein it contains.
BATTLE OF BLISTER IS A COLLABORATION BETWEEN

GENETIC MOO AND 
DR NEIL DUFTON
Find out more about the work of Dr Paddy Brock and the science behind the animation here.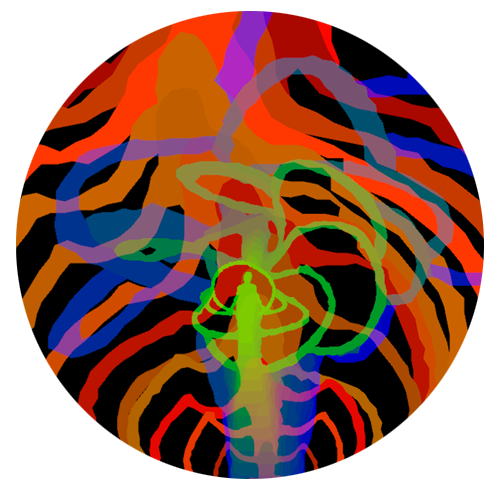 These resources have been developed to illuminate and explore the science behind the signals.
These are free for anyone to use for teaching, science communication or just for the curious.
The resources include activity sheets, curriculum links and more information
about the science, technology and data explored in the animations.
THE SCIENCE BEHIND
THE COLLABORATIONS
Find out more about the science, technology and data explored in all of the Silent Signal collaborations.