ERIC SCHOCKMEL
IN COLLABORATION WITH
DR MEGAN MACLEOD
BIOLOGICAL INFORMATION JUST BECAME A COMMODITY. TO SUCCEED YOU WILL NEED A GOOD MEMORY AND SO WILL YOUR IMMUNE SYSTEM.
Computer games have rules. Characters have different abilities and roles. Some of these are automatic and never change and some are influenced by their interaction with new characters. In computer games the program is set and the rules cannot change. This is not the same for your immune system because sometimes that code can go wrong. Immunecraft uses elements of common gameplay to capture forms and functions from immune cells to give players control over their fate.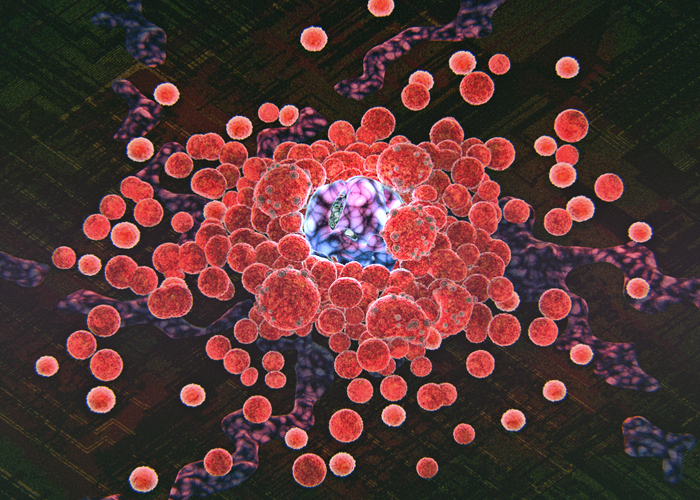 Immunecraft is a 3D CG animation that adopts the form of a video game trailer with its inclusion of menus and gameplay functionality.
Colours that are found in nature, such as coral reefs and animal tissue, inspire the look of the film.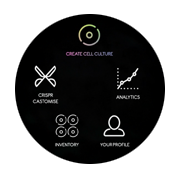 Market Place
New gene editing technologies, like CRISPR-Cas9, have made it much easier to customise cells and even whole organisms. Some of these might only be useful to research one specific disease, whilst others could be used to study many. Researchers often share their biological materials, resources and sample cells, sometimes placing them in repositories so that other people can make use of them.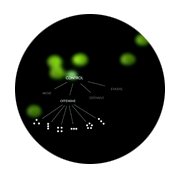 Chemotaxis
Cells use chemical signals to navigate around the body. Some cells are fixed in place and use chemical signals to call on other cells to come and help them. This is the how inflammation works – swelling is caused by many new cells arriving and gathering together after following a chemical distress call. Cells can switch these signals off and on, and can follow different signals to get to other parts of the body.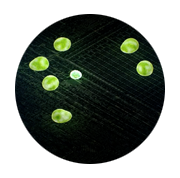 Real life gaming
Fight – attacks or swallows enemy cells (phagocytosis)
Recon – scanning enemy cells to gathering information about their nature (dendritic cell)
Upgrade – Receive new intel via dendritic cells or complete lymph node learning process (T cells)
Zombified – attacks all surrounding cells indiscriminately, enemies and friends alike (autoimmune disease)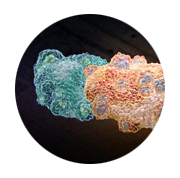 Membranes
A cell's surface membrane is both it's container and armour but signals still need to cross it. The membrane is covered in proteins (receptors) that act as doors, channels and antenna to allow cells to communicate with each other and their environment. In some cases cells exchange bits of their membrane with other cells to share information.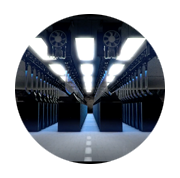 Server farm
Once a genome has been decoded it can be stored digitally and the information shared around the world. Recently this process has been reversed and digital information has been converted into DNA. One drop of DNA can store as much information as 14,000 50GB Blu-ray discs. In the future information might actually be kept alive and farmed!
IMMUNE SITES:
As well as the soldier cells that travel around the body, there are important specialised immune tissues located in specific parts of the body. These include the bone marrow that produces all the blood cells, the thymus that teaches T cells what to attack and the spleen that filters the blood and stores cells. There are other smaller sites called lymph nodes all over the body and these often get swollen when we get sick.
CELL CULTURE:
Cells can be collected and kept alive in artificial environments. Cells are kept in specialised containers in a media that is a liquid rich in nutrients. Cells can be removed from the body and immediately used in the laboratory but they don't survive long. Cells can be altered to make them grow, divide and survive for much longer and these are called cell lines.
SYNTHETIC BIOLOGY:
A new area of research that combines many different approaches to artificially design and engineer biological systems to improve them or make them more useful. Genetic engineering normally deals with one gene at a time while synthetic biology deals with whole organisms including programming in brand new functions.
IMMUNECRAFT IS A COLLABORATION BETWEEN

ERIC SCHOCKMEL AND 
DR MEGAN MACLEOD
Find out more about the work of Dr Megan MacLeod and the science behind the animation here.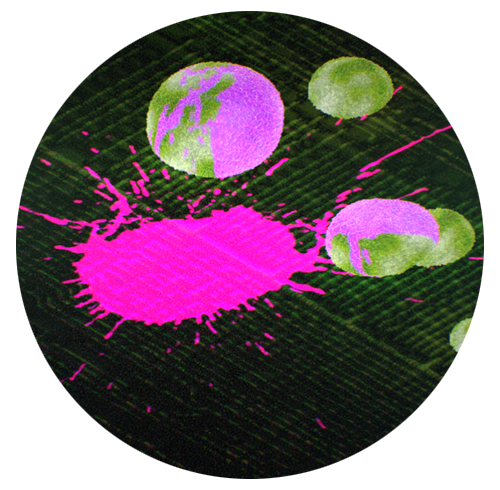 These resources have been developed to illuminate and explore the science behind the signals.
These are free for anyone to use for teaching, science communication or just for the curious.
The resources include activity sheets, curriculum links and more information
about the science, technology and data explored in the animations.
THE SCIENCE BEHIND
THE COLLABORATIONS
Find out more about the science, technology and data explored in all of the Silent Signal collaborations.