A GUIDE TO USING THESE RESOURCES
These resources have been developed to illuminate and explore the science behind the signals. These are free for anyone to use for teaching, science communication or just for the curious.
Here you can download:
The Science Guide: A compact companion guide to all the films including introductions, scientist insights and glossaries
Activity sheets: These are frameworks to deliver an interactive session to get people critically thinking about the themes explored in the projects
Behind the signal sheets: These sheets highlight the science, technology and data contained in the animations
There is also a links section where you can find out more information about the topics explored in the Silent Signal collaborations.
And finally, there is a feedback form where you can share with us your comments on how you found the resource.
DOWNLOAD
THE SCIENCE GUIDE
This compact companion guide contains much of the information shared on this website about the scientific research explored in the Silent Signal collaborations.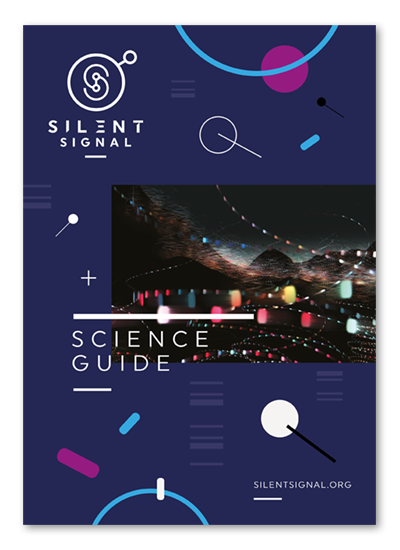 EXAM BOARD AND CURRICULUM CONTENT MATRIX
This is a quick reference guide to the A-Level Biology topics across the main exam boards that are covered in the Silent Signal animations.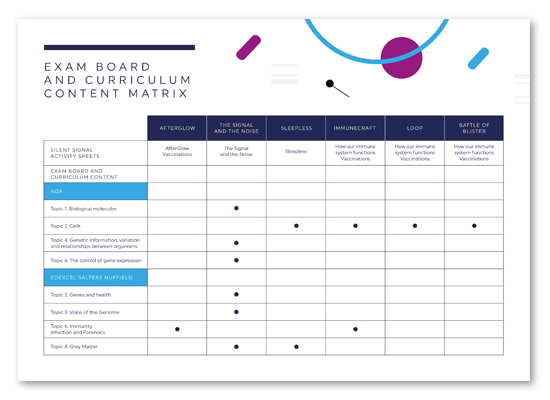 THESE SHEETS CAN HELP YOU TO DELIVER INTERACTIVE SESSIONS AROUND THE THEMES
EXPLORED IN THE PROJECTS. THEY INCLUDE ACTIVITIES, GUIDED DISCUSSION AND FURTHER LINK
The 'How our immune system functions' and 'Vaccinations' sheets
can be used alongside the Immunecraft, Loop and Battle of Blister animations. 
These sheets give further insight into the specific science, technology and data that is contained within each of the animations.